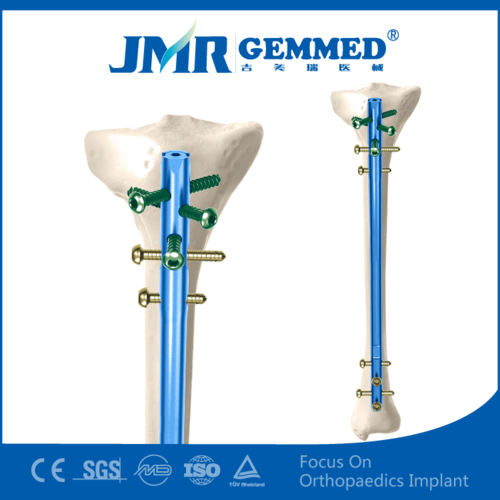 胫骨髓内钉,吉美瑞骨科,吉美瑞医疗,胫骨髓内钉,吉美瑞骨科,吉美瑞医疗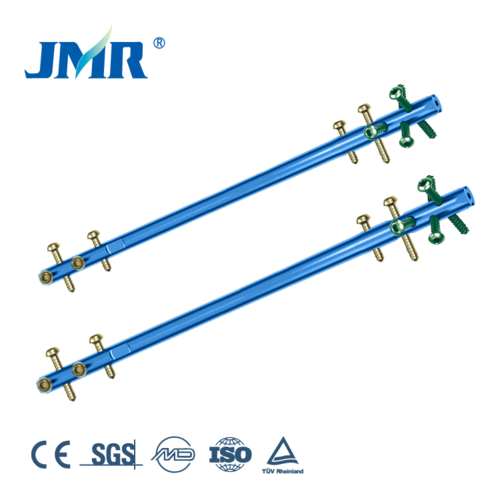 胫骨髓内钉(Ⅱ型)401006
Tibial Interlocking Nail (Type
Ⅱ
)
近端3个独特创新的松质骨锁定孔,为近端骨折块提供最理想的稳定性
空心髓内钉(φ8.4mm-φ10mm)适用于扩髓或非扩髓技术确保主钉通过导针插入,并可在没有"C臂机"的情况下用导针探测近、远端锁钉是否在锁定状态。
2个横向锁定和一个纵向锁定提供远端骨折块最佳稳定性。
1个超远端纵向锁定,双向选择提供最佳把持力,避开损伤软组织(见图1)。
Three Holes in The Proximal Head,Providing Most Stable Fixation.
Two Transverse Dynamic Compression Holes.
Latest Arc design for better Installation and remove.
Titanium Alloy Material Extending Anti-Fatigue Period .
Cannulated Design ,Applied with Guide Wire for More Accurate Installation ,even without C-Arm Machine.
Two Transverse and one Vertical Locking Holes ,
Providing Best Stability.
One Extreme Far Locking Holes ,Providing Best Bonding;Protecting Soft Tissue.
胫骨髓内钉,吉美瑞骨科,吉美瑞医疗,胫骨髓内钉,吉美瑞骨科,吉美瑞医疗